Remember the "good old days" of your childhood?
Before the digital revolution put gadgets in their hands, kids made their own fun.  Imagination soared with old-fashioned exercise and role playing. And a solid swingset was often at the center of the action. Soaring on an airplane, defending a fort, or swinging through the jungle – a kid could pretend to do anything or be anyone on his backyard swing.  
We know that you are concerned with keeping your children happy, active, and bright-eyed.  That's why we are excited to offer you the finest quality vinyl playsets, and vinyl swing sets on the Eastern Shore!   A quick hug from a rosy-cheeked adventurer will be thanks enough for your investment in your family. Let the fun begin!
It's easy to get started!
Browse
our website or visit our sales lot
Experience
personalized guidance and superior products
Enjoy
timely delivery by communicative experts
What Is A Vinyl Swingset or Vinyl Playset?
What exactly is a vinyl playset? Instead of exposed wood, all surfaces of our swing sets are PVC vinyl or poly lumber.  Vinyl & Poly decking material carry a lifetime warranty against rot and insect damage.  All internal supporting wood is sustainable pressure-treated lumber to prevent rot.
Our premium quality extends to stainless steel hardware, nylon bearings on all swings and gliders.  Your kids will enjoy our comfortable rubber seats and rubber-coated swing chains.
Our vinyl playsets are tip-proof, no matter how many children are playing on them!
Our vinyl playsets features include:
Vinyl siding 

Sliding windows with screens and shutters

Modular design that can be added to

Standard asphalt shingles
Pros and Cons: Wooden vs. Vinyl Playsets & Swing Sets
Should you buy a wooden playset or a vinyl playset?  Vinyl swing sets are generally more investment up front, but wooden sets require costly  and time-consuming maintenance to prevent rot and splintering.  Most wooden sets will require cleaning, staining, and sealing nearly every year.  Our vinyl swing sets from King Swing Sets of Lancaster County, PA are maintenance-free and stand-up for years.  And today's vinyl playsets can effectively mimic the rustic look of wood.
Vinyl Swing Set & Vinyl Playsets Warranty Information
King Swings warrants its swing sets used in residential and commercial applications. To receive warranty benefits, you must provide your original invoice as proof of purchase. Warranties are for the original purchaser at the original installation address. Any alterations, relocation, or improper installation of your playset will void the warranty.
King Swings warrants that the workmanship of your playset will be without fault for up to 6 years for vinyl sets. We extend a limited lifetime warranty on all pressure treated lumber against decay & insect damage. All PVC plastic lumber is backed by our 20 year warranty against fading & discoloration. In addition, all canopies, sliding boards, metal components, swings and accessories are warranted for 6 years from purchase for vinyl sets. King Swings products are not warranted as being suitable for a particular purpose. The suitability of the product is for the purchaser to determine. This warranty does not cover normal wear and tear, failure to properly maintain the playset, or damage resulting from misuse or abuse of the product. No damage done by acts of nature such as lightning, storms, hurricanes, tornadoes, earthquakes or any extreme weather conditions is covered.
Rent To Own Swing Sets ― Let The Family Fun Start Today!
Need a vinyl swing set now but cash-strapped taking care of your kids?  We understand and offer Rent-to-Own financing – no credit check required. We are happy to offer rent to own playsets in Maryland and Delaware.  Contact us to learn more!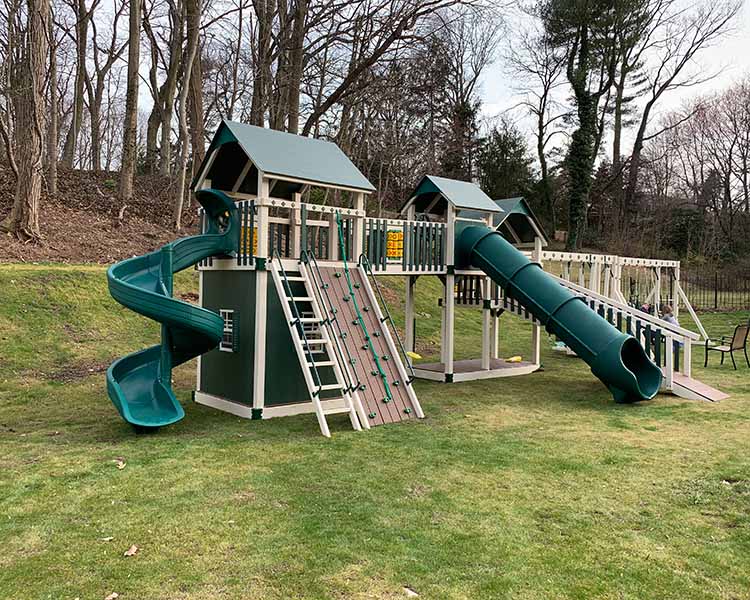 Conveniently located in Denton, MD, we offer superior quality Amish-built sheds for sale in Maryland, Delaware, and the Greater Eastern Shore Area. Add the finishing touches to your outdoor living space with our premium poly lumber patio furniture. Delight your kids with our vinyl playsets and swing sets for sale.