Get Connected to the Shed You Need
Sheds! Those pert little buildings in the backyards of so many suburban and rural Americans. These humble structures have been around for centuries and show no signs of being abandoned. In fact, sheds are more versatile today than ever before. In this post, we'll discuss various shed building materials, sizes, and features. . . and the bells and whistles to make your shed ring.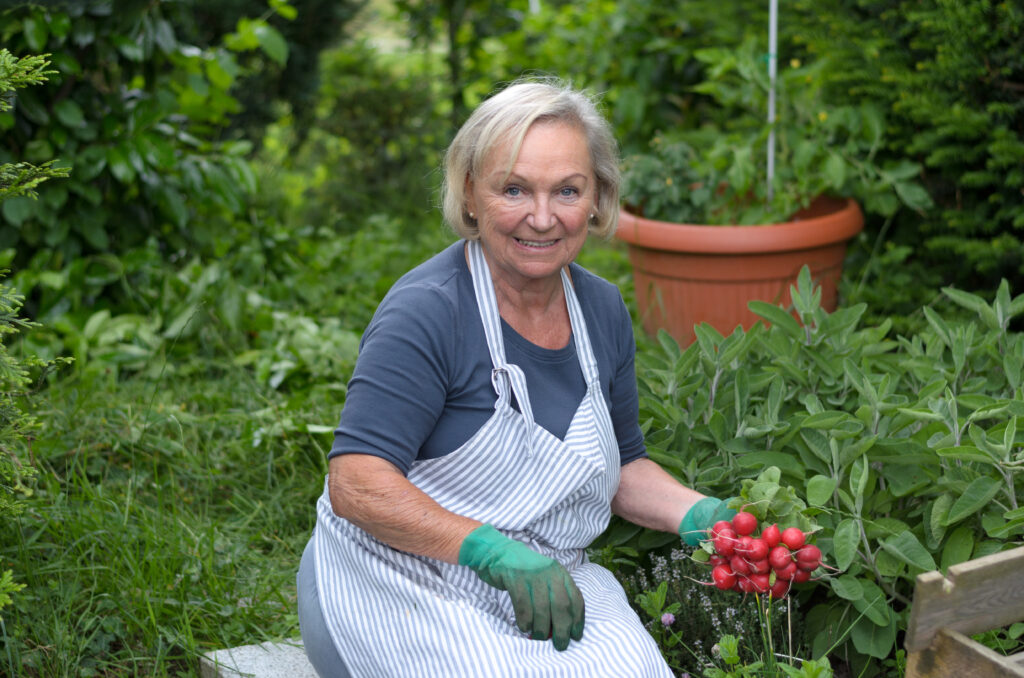 1. The Materials
The materials you should choose vary depending where you live, where your aesthetic tastes fall, and what your shed's purpose is. But that's not all. You'll want to make sure your shed was built using high-quality materials. You'll want a builder and a dealer (sometimes they are the same people) with a reputation for top-tier workmanship. Amish-built sheds are often prized for their durability and quality.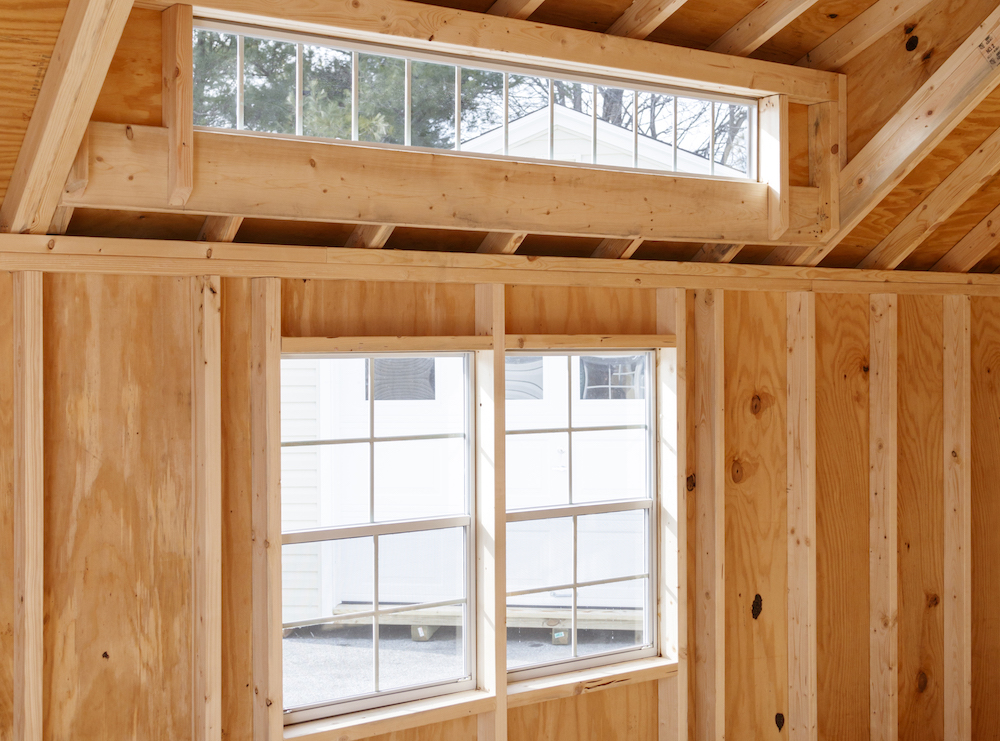 Wood
Wood is a natural insulator that will keep your shed's interior more comfortable than sheds built from metal or plastic. Wood is also a very strong and durable building material; a well-built wooden shed can stand up to the blast of some of the strongest winds. Wood looks nice and has a natural appeal. Plus, you can easily customize a wooden shed.
One of the charms of a wooden shed is the versatility of paint color. And since most wooden sheds require a new coat of paint from time to time, you can switch the color of your backyard building when you get tired of the color you have.
Wood also has some downsides. If the company you buy from uses poor-quality wood or neglects shed-building best practices, your wooden shed may rot or be damaged by moisture. Insects like powderpost beetles, termites, or carpenter ants can attack a wooden shed and bring destruction.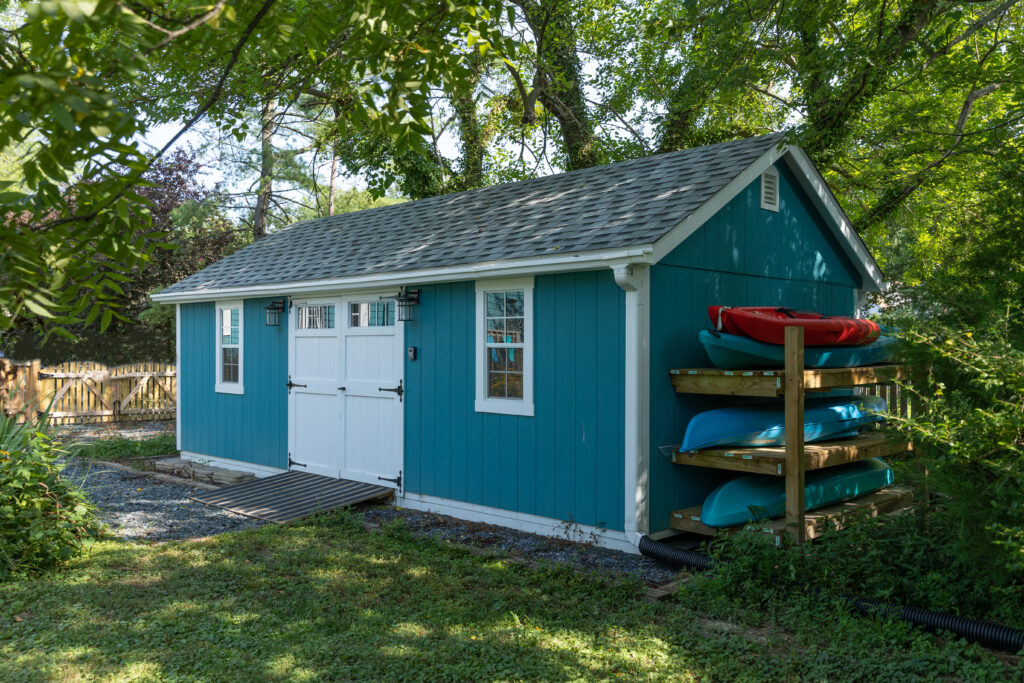 LP Smartside
Here at Olde Sale Barn, we use LP Smartside for all of our "wooden" sheds. LP Smartside is an engineered wood product especially designed to conquer the insect, moisture, and price headaches of wooden sheds. You may have seen sheds where the siding is warping, cupping, or splitting. It's not flattering. LP Smartside is engineered to prevent these issues.
What is LP Smartside?
Wax-coated wood strands are bound together with resins and other binders into a surface with the look and feel of real wood. Bonded to this is a layer of zinc borate for rot and insect resistance. The final product is overlaid with a resin-saturated, water-resistant overlay.  
LP Smartside comes in a multitude of colors. Due to the resin overlay, the paint on an LP shed has outstanding paint adhesion and will last much longer than paint on a regular wooden shed.
If repainting is not your thing, then LP Smartside or vinyl siding are just what you need.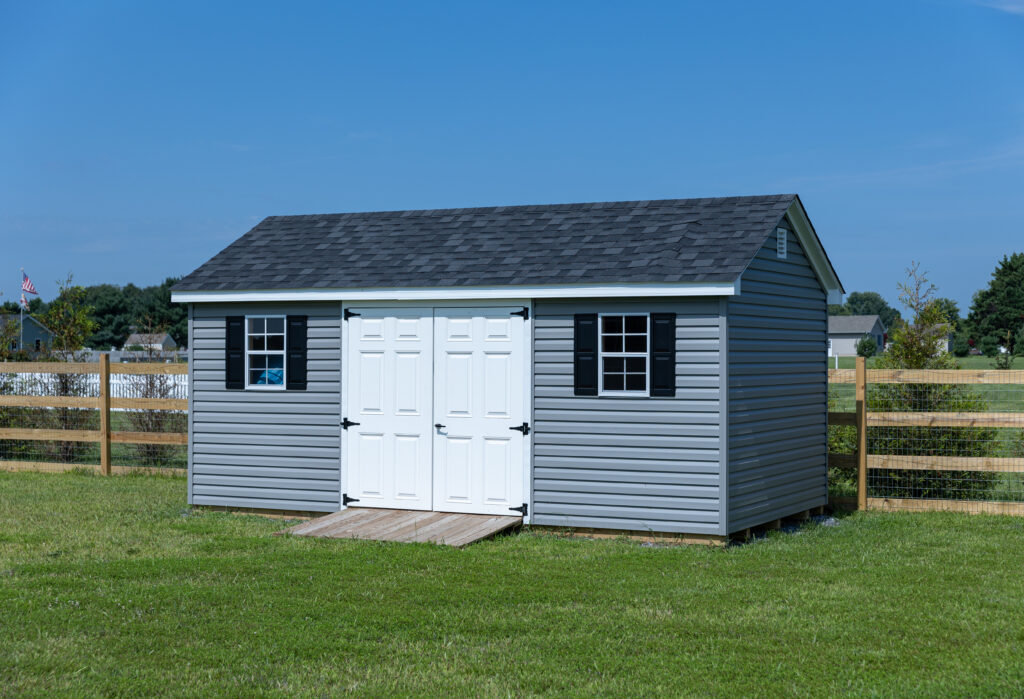 Vinyl-Siding Sheds
Vinyl-siding sheds are stud-framed sheds dressed in vinyl siding instead of LP Smart siding. Just like resin sheds, vinyl-sided sheds are extremely low-maintenance, easy-to-clean, and insect-resistant. They are durable and are some of the longest-lasting sheds on the market. Because of their wood frames, our vinyl sheds stand strong in high winds. They look sharp. Vinyl comes in many colors and can be customized to your heart's content.
These are the most common types, but you can also find metal or fiber-cement sheds. At The Olde Sale Barn, we sell sheds with LP Smartside and vinyl siding. We highly recommend Amish-built sheds.
2. Sizes
At Olde Sale Barn, we sell the following size sheds. You can also order a custom size.
8' x 10', 12', 14', 16'
10' x 10', 12', 14', 16', 18', 20'
12' x 12', 14', 16', 18', 20', 24', 30'
14' x 24', 30'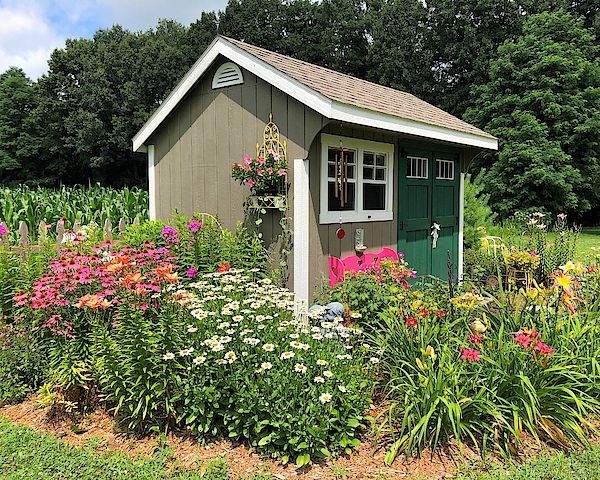 Small
Small sheds are typically 80 sq. ft. or less. Our 8' x 10' shed fits this category. If you don't have a large backyard or much stuff, a small shed will tuck neatly into a corner of your property. Some garden tools, fertilizer, and a lawnmower will store nicely.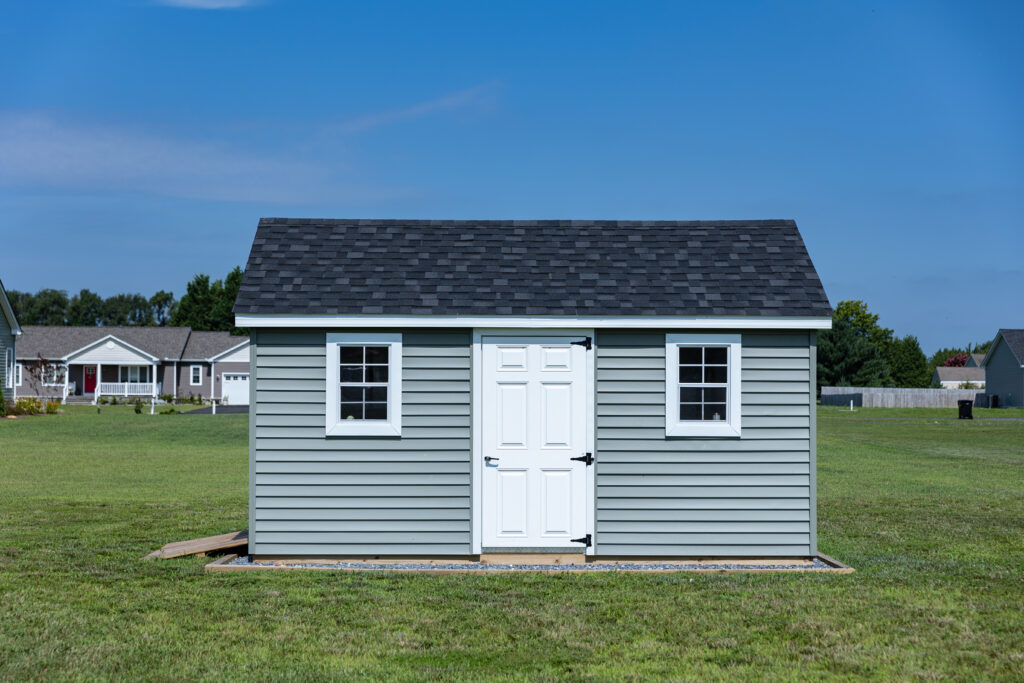 Medium
A medium shed is between 90 and 120 square feet.
Our 8' x 12'-14' sheds as well as our 10' x 10'-12' sheds all fit into the medium category. This size shed could hold a motorcycle or ATV, a riding mower, bikes, lawn furniture, etc. A good option if you have large gardening tools or sports equipment.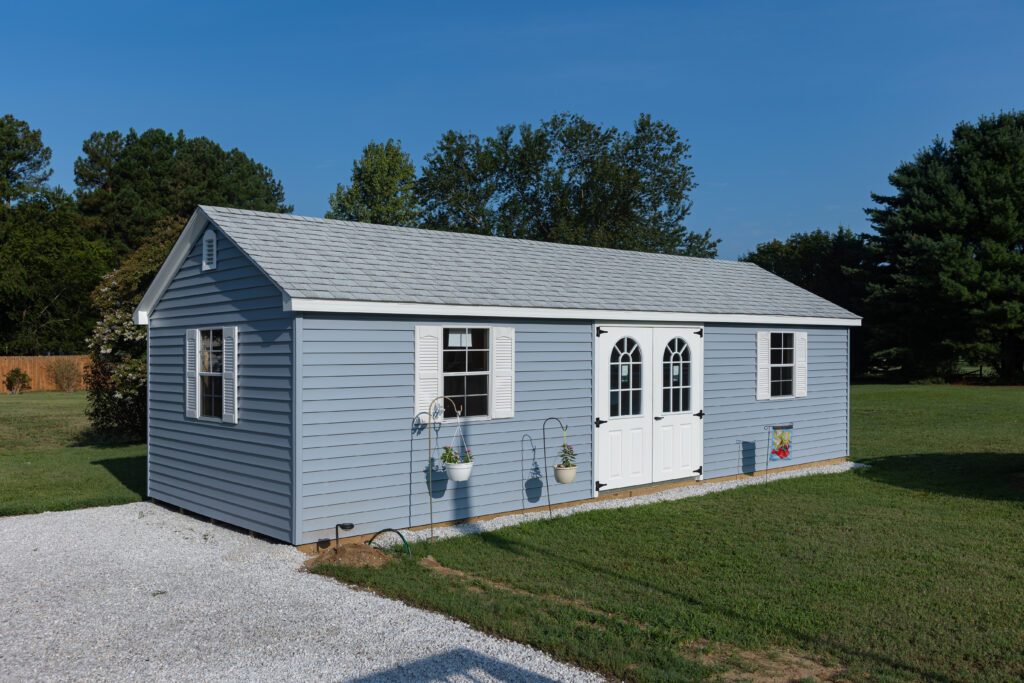 Large
A large shed is 120 square feet and above. Our 8' x 16' and 10' x 14' sheds are on the smaller end of this category. Our 14' x 30' shed is our largest option, giving you 420 square feet! Cars, boats, sports and fitness equipment–you can load a lot in sheds this size. If you're embracing the home office or guest quarters trend, a large shed will give you adequate space that won't cramp your style.
4. Colors
Storage doesn't have to be an eyesore. A backyard shed can be as dressy or as casual as you want it to be. Find a color scheme that compliments your home's exterior, and you'll have a dashing little building. Make your shed pop with a vibrant hunter green, or embrace rustic with a barn-red coat of paint. If practicality is your first consideration, choose a color that hides the dirt.
Note that your community or HOA may require your shed to match your house–down to the color and style of the roof. It's always good practice to check the guidelines before you buy. 
Below are Olde Sale Barn's color samples.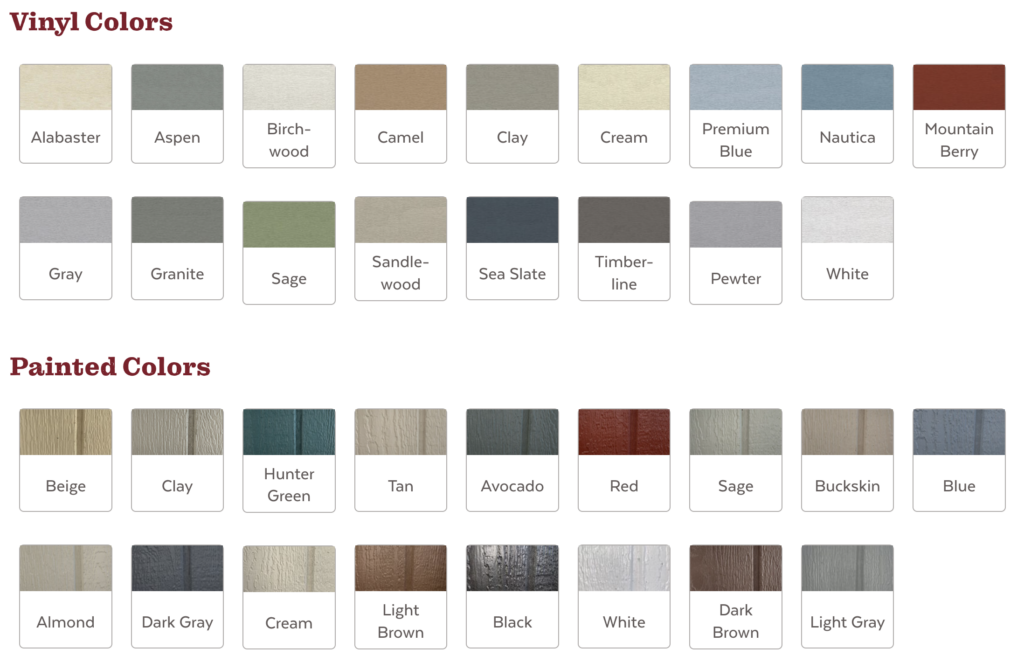 5. Features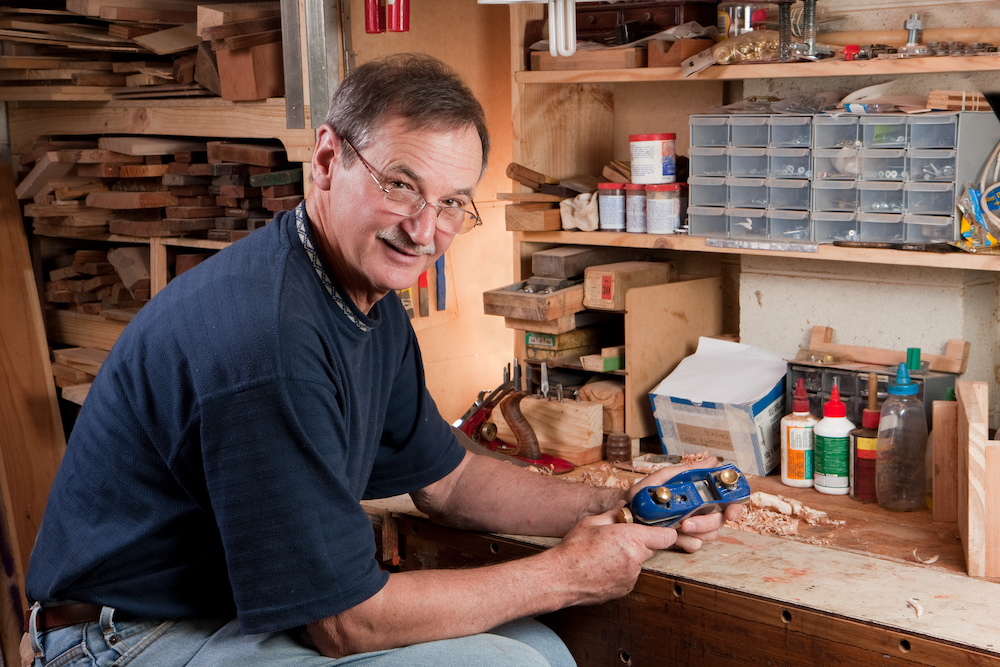 Before you choose features, make a list of what you plan to use your shed for. Will it be a hobby workshop, an office, a studio, or a bedroom? Will it store tools or equipment?
If you've outgrown your garage, you can opt for a larger shed with room enough for a car and some garden tools. A 12' x 24' shed is perfect for that.
Knowing your shed's purpose will help you decide what kind of doors and windows you want and how many.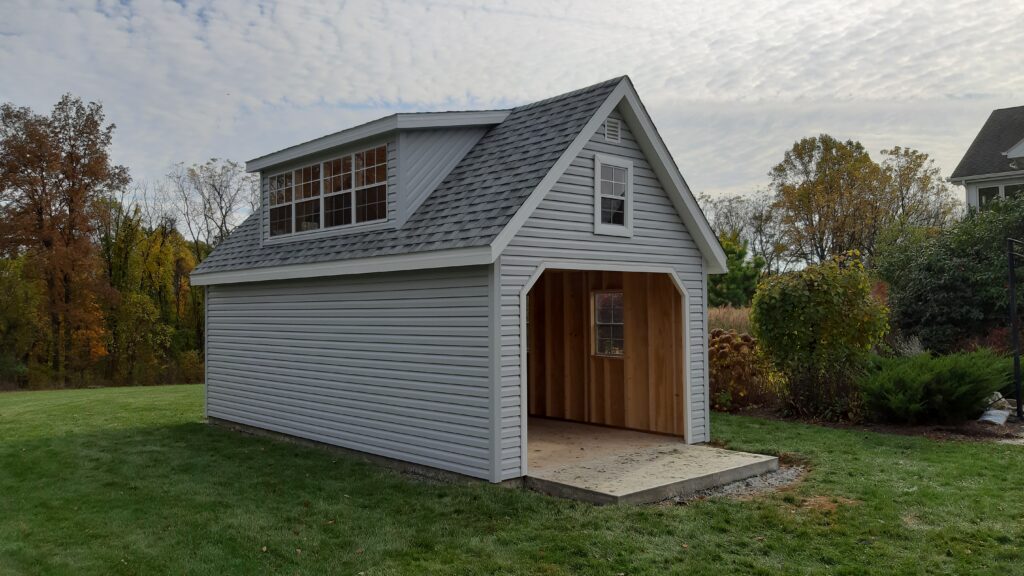 Doors
Doors are symbols of adventure. Even on a shed. Enable easier equipment movement with garage doors. If your storage items are large, a set of double doors will make navigating less frustrating. Are you designing a home office or guest quarters? French doors will notch up the class on any small shed.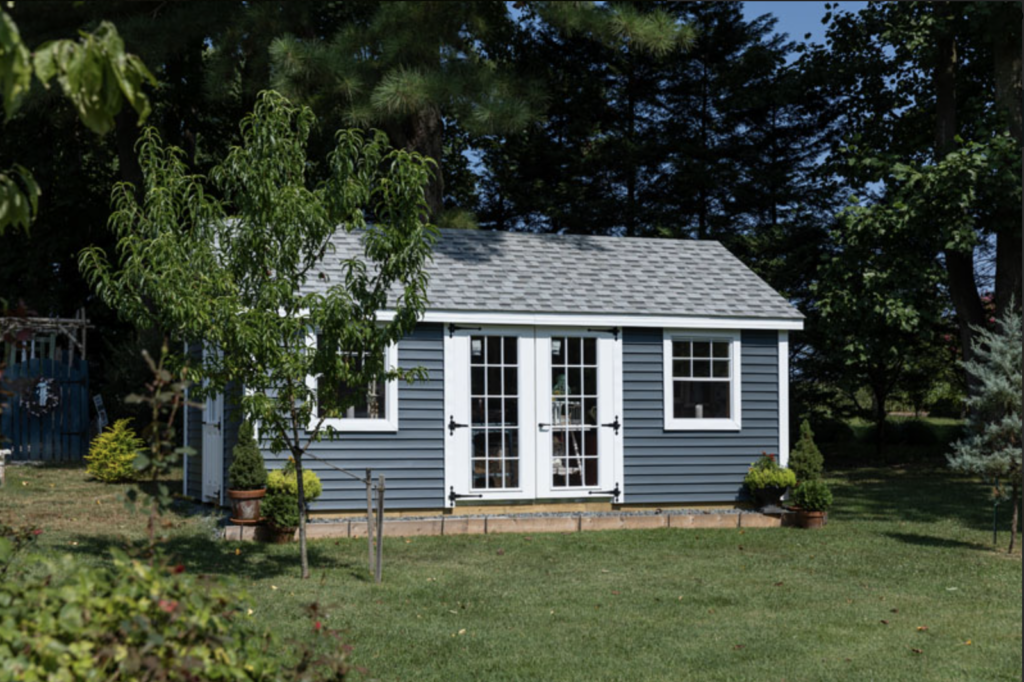 Windows
If you are planning to use your shed as a hobby space or office, you'll want to let the sun shine in. Windows aid in ventilation, preventing your shed from becoming too stuffy and stale. On the other hand, windows can be a target for thieves. They can also let in moisture or insects if not properly sealed. If you don't plan to spend time in your shed other than walking in and out, windows may not be necessary.
Roof height and style
If you are storing large equipment or tall, bulky items, you can opt for a shed style with a high peaked roof, like our chalet line. The Dutch Barn style also has a spacious roof area, perfect for attic or loft space.
5. The Bells & Whistles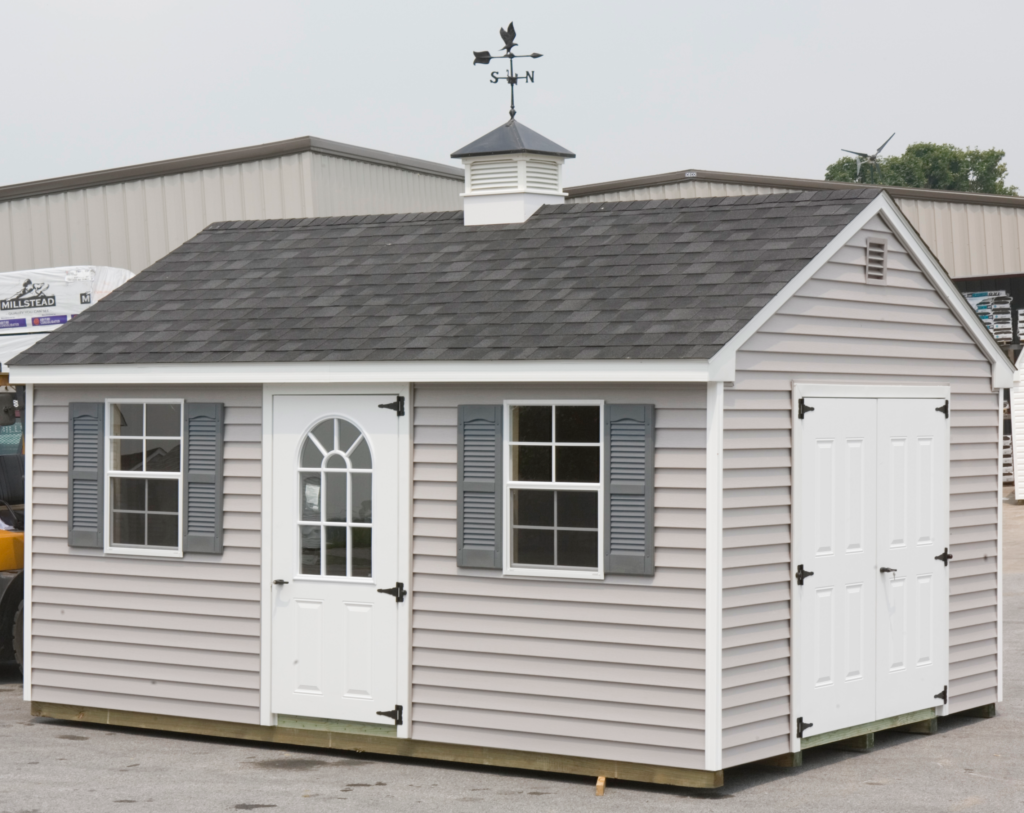 Cupolas
What's a backyard barn without a cupola? Cupolas add a dash of personality to your structure. Additionally, they let in extra air or light, depending on whether you choose a vented or windowed cupola.
Keeping your shed ventilated and well-lit is important. For a comprehensive roof venting solution, combine a vented cupola with a ridge vent. Cap your cupola with a weathervane for an extra flourish.
Window boxes
Bring the charm of the Netherlands to your backyard shed. Deck your shed with window boxes and plant them full of blooms. Mix in a few viney plants with graceful tendrils for a whimsical flounce. Or you may opt for stout cheerful geraniums or full-bodied petunias to accent your windows.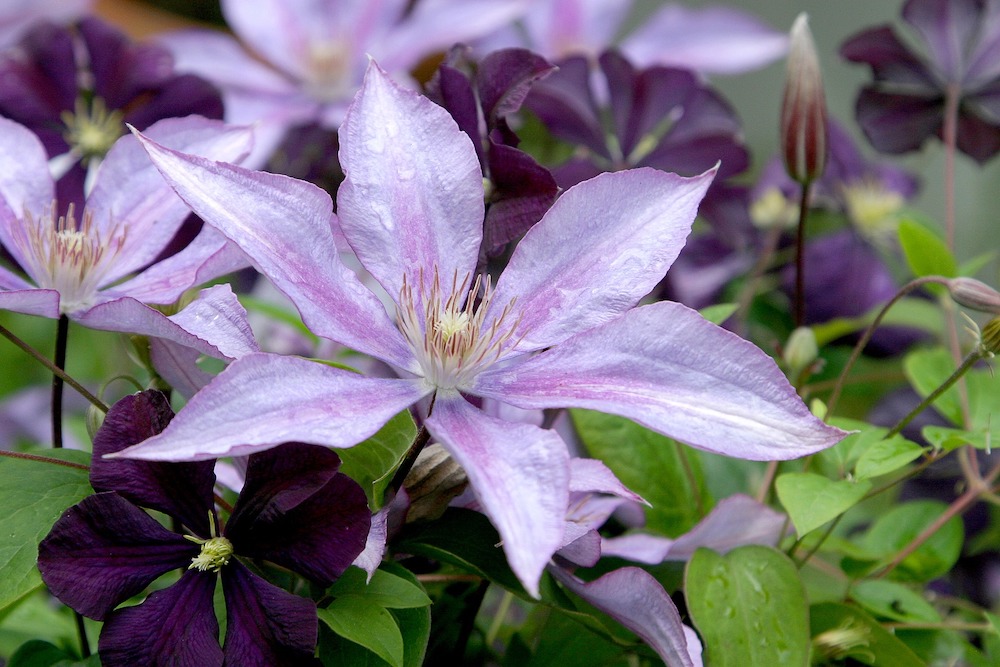 Trellises
The outside wall of your shed is a climbing plant's dream–fasten a trellis to your wall and let her climb. Highwire Flyer climbing roses, bougainvillea, Mandevilla, morning glory (be careful not to let these take over your garden), clematis, Scentsation honeysuckle (a non-invasive variety), sweetpeas, and wisteria are all flowering vines with a thirst for adventure. Watch your shed walls transform.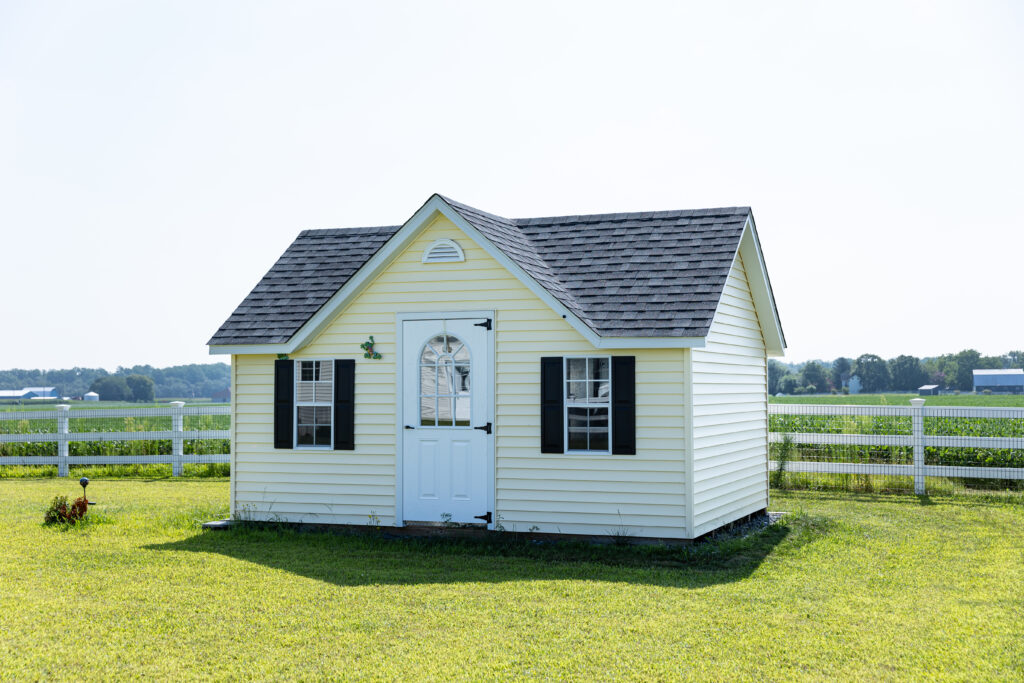 Dormers
Dormers don't just make your shed look cuter. Since dormers almost always include windows, they open things up and bring in more light. You can choose from a variety of dormer styles for the aesthetic that delights you. An offset roof with transom windows or a standard roof with classy dormers lets in plenty of light for your projects.
What are your ideas?
We'd love to hear them. At The Olde Sale Barn, you can customize your shed with the features you love. Check out our in-stock sheds and see if you qualify for free delivery.