Got Storage Shed Questions?
Are you considering a storage shed purchase?
Do you need help determining if a storage shed is right for you?
Are you wondering what size storage shed is right for you?
Could you use some help with the storage shed buying process?

If you answered yes to any of these questions this buyer's guide is for you.
I am Dave Miller, owner of The Olde Sale Barn located in Denton, MD. We have assisted hundreds of homeowners throughout Delaware, and Eastern Shore, Maryland with their storage needs. We believe the best decisions are informed decisions, with that in mind we have created this guide to provide you with the information necessary to make an informed storage shed decision. If you have any questions please contact us, we will be delighted to assist yo
What To Consider Before You Buy A Storage Shed
Your tiny attic space is overflowing, the garage is packed and your lawn equipment needs to go somewhere. Resist the urge to run out and buy a storage shed without answering a few questions first.
Don't know what those questions should be? Well, you're in good hands. We've compiled a list of questions to help you identify a shed that fits your goals—storage, studio, or sanctuary.
It's easy to get started!
Browse
our website or visit our sales lot
Experience
personalized guidance and superior products
Enjoy
timely delivery by communicative experts
What You Need To Know About Shed Permits
During a trip to the sales lot at The Olde Sale Barn you fall in love with a brilliant emerald shed capped with slate grey shingles and white trim. Delivery day arrives and your shed is nestled on a bed of gravel right by the fence of your backyard. You love it. Until you get a phone call a few days later. . . "Do you have a permit for the shed you just installed?" Your heart drops…
Do I need a permit to place a storage shed on my property? What does that cost? How do I get a shed permit? Find answers to your shed permitting questions…
Where Should I Locate My Storage Shed?
Site planning is an important part of the shed buying process. You will want to research if your local government and/or HOA has setback requirements from property lines or existing structures. Terrain and overhead obstructions need to be considered when choosing the perfect site location. Last but not least was convenience considered when choosing the site location?
What Size Shed Do I Need?
A frequently asked question by shed customers is "How do I know what size shed to buy". What they are really asking is how do I estimate the amount of storage space I need. While there is no exact science since almost every situation has variables, there are some guidelines that are standard to the industry.
Amish sheds are available in varying widths, lengths, and even heights to accommodate almost any storage need. User intent will make a difference in the amount of space you need.
Choosing Shed Materials, Features and Design
Designing a backyard shed can be a lot of fun, use the link to our 3D Configurator to begin your own custom shed design. You can customize size, door and window location, colors and more. Don't see the customization option you wanted? Please contact us, we have many customizations not currently listed in our Shed Designer.
Our sheds are available with wood or vinyl siding, depending on how much maintenance you want to do. Looking to use your shed for a studio or a man cave? We are here to help you design the perfect backyard shed.
We Offer Rent To Own Sheds ― No Need To Wait, Call Us Today!
Need a shed now but running short on cash to buy it outright?  We understand and offer Rent-to-Own financing ― no credit check required. We are happy to offer rent to own sheds in Maryland and Delaware.  Contact us to learn more!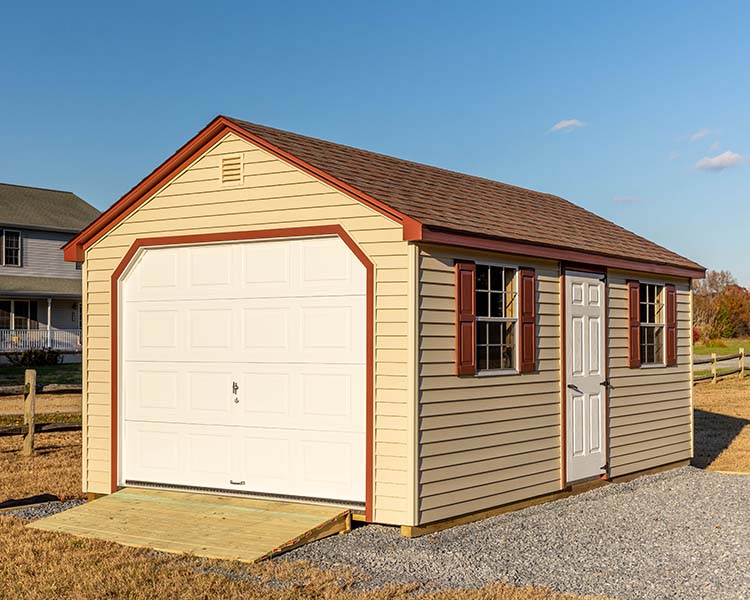 Storage Shed Storage Does & Don'ts
Wondering what you can store in a storage shed, or what you should not store in a storage shed? Since most backyard sheds are uninsulated and lack heat, if you live in a climate that experiences freezing temperatures, you will want to avoid storing items that will be damaged by freezing. Lawn equipment, sports equipment, and vehicles are a great fit for storing in a shed.
Site Preparation Before Delivery
Proper site preparation before your shed arrives will help eliminate headaches later and extend the life expectancy of your shed. Preparing a simple stone base will go a long way to improve your storage experience. 
What Does It Cost To Get A Shed Delivered?
The Olde Sale Barn offers FREE SHED DELIVERY to neighborhoods in the Delaware, Eastern Shore Maryland, Northern Virginia area. Our professional delivery team would be delighted to place a shed in your backyard.
Conveniently located in Denton, MD, we offer superior quality Amish-built sheds for sale in Maryland, Delaware, and the Greater Eastern Shore Area. Add the finishing touches to your outdoor living space with our premium poly lumber patio furniture. Delight your kids with our vinyl playsets and swing sets for sale.